LA PORTAZZA RESORT
« Back to accommodations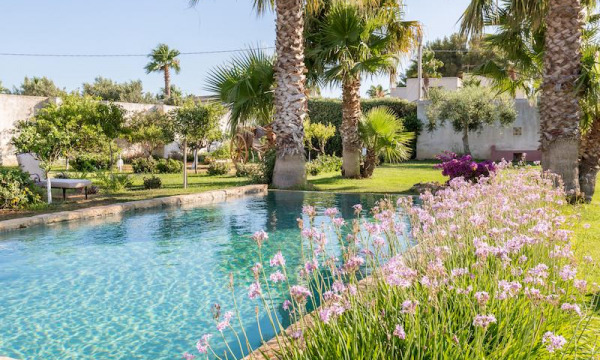 Services
Swimmingpool

Air conditioning

Kitchen

Shared kitchen

Internet Wi-Fi

Internet access (PC)

Mini-bar

Microwave

Barbecue

Chimney

Washing machine

Dishwasher

Green area

Chaise longue

Parking

Access for disabled

Cleaning

Bicycles
Nearby
Sea (beach)

Sea (rocks)

Monuments

Countryside
The holiday farm, immersed in the amazing scenery of the Stagnone Natural Reserve in Marsala, is hosted inside an eighteenth century typical rural building characterized by a large internal court, as well as several lodgings, stables, stores for the harvest, surrounded by farmed lands. Purchased by a noble family, the Montaltos, the "baglio" was inhabited by the landowners themselves during the summertime, but also by the farmers who worked there all the year round or for the season. The structure had remained unchanged till the recent refurbishing which permitted a restoration respectful of the existing building and, at the same time, its transformation into a comfortable farm based on rural tourism activities.
All the rooms are furnished with taste in the least details. They are very bright and they face both a side of the garden and the sea. Besides, they are all en suite, provided with air conditioning, central heating, satellite TV, wireless network and telephone.
The villa is located in an excellent position, 2 kilometres from the centre of the town of Marsala, the ancient Lilybeum, and a few kilometres from the sea where there are several bathing establishments but also large free and wild beaches. Moreover, Portazza is very near to the Stagnone Lagoon, transformed into an Oriented Natural Reserve in 1984 to protect the wide and precious ecosystem. You can admire several species of migrant birds (among which pink flamingos, herons, cormorants), which find here their natural habitat in their long route taking them to Africa in autumn and to Europe in spring. The Lagoon is characterized by wonderful salt pans, stretches of water separated by narrow stripes of land making up an irregular and multicoloured chessboard, where it is not unusual to see workers processing the salt following ancient methods even today. This scenery offers the most beautiful sunsets in western Sicily!
Mothia, ancient Phoenician colony, is very important for its archaeological excavations which have brought to light several Phoenician remains, all kept in the Whitaker museum. In this wonderful Mediterranean garden the most picturesque places to admire are the necropolis, the mosaics, the Tophet, sacred area where human sacrifices were carried out on behalf of Baal and Astarte.

Egadi islands: the most famous and inhabited Island in all the archipelago is Favignana, where you can admire the hilly landscape, the vegetation made up of the Mediterranean scrub and the beautiful coast. Marettimo and Levanzo are two real little uncontaminated paradises in the centre of the Mediterranean, the former rich in wonderful sea-beds, the latter is characterized by bays and grottos, as the Genovese's one with its prehistoric engravings.
Besides, it is easy to reach several places famous for their landscape, historic and artistic value, such as Segesta, Selinunte, Erice, Agrigento temple valley and the Zingaro Natural Reserve.
Località: Marsala, Trapani
Pricing
| | | |
| --- | --- | --- |
| From | To | Price |
| 01/01/2019 | 31/12/2019 | € 59 |
Prices are per night, per person, based on double room occupancy, including breakfast (min. 2 nights).
For further information on this accommodation or for special requests please submit the following form or send us an email to sicily@tururi.org
« Back to accommodations