LUNA MINOICA (APARTMENTS)
« Back to accommodations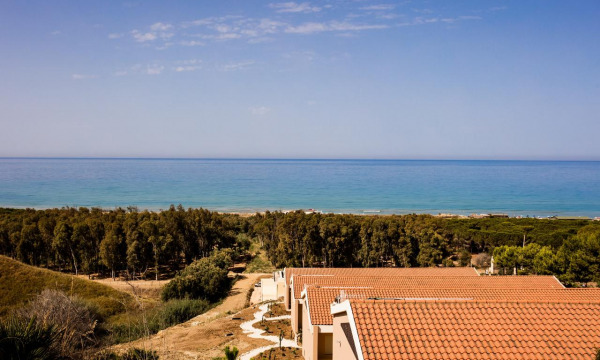 Services
Swimmingpool

Air conditioning

Kitchen

Shared kitchen

Internet Wi-Fi

TV in the room

Chaise longue

Animals admitted

Parking

Guided tours

Bicycles
Nearby
Sea (beach)

Monuments
Luna Minoica is the unique building of the area located just 200 meters from the lovely sea of Sicily. You have direct access to it through a fragrant forest of eucalyptus and pine trees, a peaceful oasis of relaxation.
The rooms are cozy, refined and meticulous attention to detail for a unique stay, surrounded by nature and comfort. The beautiful beach, nature reserves full of trails to explore by bicycle or on horseback, history and archeology, this property is the perfect starting point to experience a very special holiday.
The facility is equipped with 12 apartments with 4 beds (80 square meters of which 30 outer surface). Each apartment has a separate entrance, a double bedroom and a twin bedroom, bathroom with shower, a small terrace to enjoy the evening breeze after a day of sea; a small patio with a table and chairs to dine outside. In addition there are also other apartments that can accommodate up to 8 people.
A pleasant distraction is the Wellness Point, a small wellness oasis to relax just a step from your room or make daily exercise in the gym room, or relax in the sauna, turkish bath and relaxation area.
This location is very close to the Valley of the Temples and the lovely Scala dei Turchi. Agrigento is an ideal starting point for visiting the natural places of the south as the nature reserve of Torre Salsa, one of the most beautiful in Sicily.
Definitely worth a visit, away from the usual mass tourism routes:
Sicani villages like Sant'Angelo Muxaro, in the hinterland of Agrigento
Burgio with its typical pottery
Caltabellotta, hilltop village with its spectacular views over the south coast and the sea
Località: Montallegro, Agrigento
Pricing
| | | |
| --- | --- | --- |
| From | To | Price |
| 01/04/2021 | 30/04/2021 | € 770 |
| 01/05/2021 | 31/05/2021 | € 980 |
| 01/06/2021 | 30/06/2021 | € 952 |
| 01/07/2021 | 31/07/2021 | € 1190 |
| 01/08/2021 | 31/08/2021 | € 1330 |
| 01/09/2021 | 30/09/2021 | € 952 |
| 01/10/2021 | 31/10/2021 | € 770 |
Prices are per week (lodging only) and may vary according to the number of guests.
If a cash deposit and/or possible additional costs (final cleaning, consumption of water, electricity and gas) are requested to be paid on spot, this will be always mentioned in the description of the vacation home or apartment.
For further information on this accommodation or for special requests please submit the following form or send us an email to sicily@tururi.org
« Back to accommodations