HOTEL SIGNUM
« Back to accommodations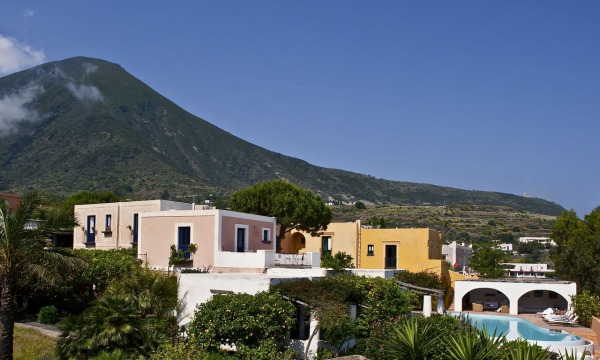 Services
Swimmingpool

Air conditioning

Restaurant only for guests

Kitchen

Shared kitchen

Internet Wi-Fi

TV in the room

Mini-bar

Green area

Chaise longue

Guided tours
Nearby
Sea (rocks)

Mountain

Countryside

Bars/Restaurants (walking distance)

Shops
The Signum, a charming Hotel on the Island of Salina, in the Aeolian archipelago, was born of the painstaking renovation of an old country hamlet surrounded by greenery, just a few steps from the sea. Here the perfumes of the land and sea greet guests as they are welcomed with the authentic Aeolian hospitality of Casa Signum.
The island whispers the story of the silent volcanoes which long ago shaped its green hills. Its lush nature is reflected in the lovely gardens of the hotel which surround the terraces shaded by typical cane awnings, the infinity pool and whirlpool with enchanting views of the sea, relaxing outdoor spaces, intimate hidden corners.
Bright and airy, with original pieces of period furniture and elegant fabrics, each of the hotel's thirty guestrooms has a style of its own which envelops guests as they relax. Views overlooking the gardens or the sea, whose perfumes waft through the large windows on the soft breeze, create a perfect resting place.
Like the hotel, the Restaurant is managed with passion by the Caruso Rametta family. Fresh produce and specialty preserves are carefully selected and featured in the predominantly regional dishes that exalt Aeolian and Mediterranean flavours. The culinary philosophy is based on quality in a light Mediterranean key. Mediterranean quality is also reflected in the wine selection. Most of the 350 labels found in the well-stocked cellars come from Sicily and other regions of southern Italy.The Wine List details the story of the typical vineyards and of each classic 'terrior' of the peninsula.
Scents of citrus, vines and jasmine envelop guests as they experience the wellness centre at the Signum SPA Salus per Aquam. The traditions of the archipelago which inspired its creation come to life in the Spa and in the products used, provided by the fertile volcanic earth: capers, malvasia grapes, oranges, lemons, prickly pear cactus and almond milk. 
Località: Salina, Aeolian Islands
Pricing
| | | |
| --- | --- | --- |
| From | To | Price |
| 06/04/2017 | 24/05/2017 | € 100 |
| 25/05/2017 | 21/06/2017 | € 125 |
| 22/06/2017 | 26/07/2017 | € 150 |
| 27/07/2017 | 03/09/2017 | € 175 |
| 04/09/2017 | 10/09/2017 | € 150 |
| 11/09/2017 | 01/10/2017 | € 125 |
| 02/10/2017 | 05/11/2017 | € 100 |
Prices are per night, per person, based on double room occupancy, including breakfast (min. 2 nights).
For further information on this accommodation or for special requests please submit the following form or send us an email to sicily@tururi.org
« Back to accommodations