FONTES EPISCOPI
« Back to accommodations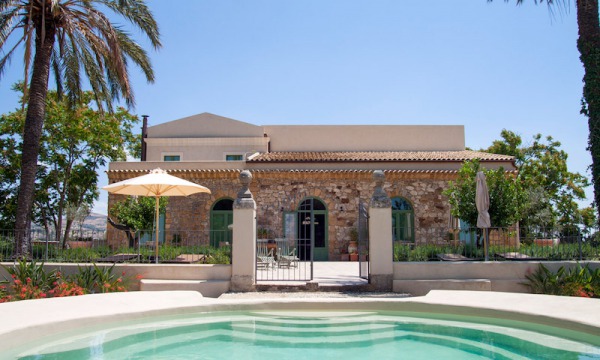 Services
Swimmingpool

Air conditioning

Heating

Restaurant only for guests

Internet Wi-Fi

TV in the room

Mini-bar

Barbecue

Washing machine

Dishwasher

Green area

Children's play area

Chaise longue

Animals admitted

Parking

Cleaning

Guided tours

Riding

Bicycles
Nearby
Monuments

Countryside

Bars/Restaurants (walking distance)
On the Grand Tour travellers' route, the Nineteenth century European aristocracy came to Sicily to spend their winter. It was the time when cultured and wealthy middle-class people embellished the island with precious works of art and buildings. Baron Ignazio Genuardi, a Sicilian influential person of that time, gave a beautiful mansion as a present to his son, Gerlando, who was reluctant to the mundane life. It was a magic place to gather, meditate, read and enjoy the benefits of nature. Thanks to his extraordinary intellectual and human qualities Gerlando began soon an important ecclestical career and he became a beloved bishop. After a fine and careful renovation, Genuardi's mansion Fontes Episcopi is ready to host and delight who loves the vitalizing effects of being in nature, the sensorial harmony and the well-being.
The Resort sets over two floors which surround an inner court. The ground floor – where originally were the farmers' bedrooms and the lounge – now you can find the hall and the common areas. On the same level, the "home's heart", the kitchen has been restored and equipped to be a cozy place where it is possible both tasting and cooking meals by using home-grown vegetables. Furthermore, the old stables and mill's locals have been transformed into a wellness centre. On the noble floor there are seven exquisite guest rooms.
The rooms are equipped either with a private terrace or a view to the countryside or inner court. Double bed, bathroom with shower, safe-deposit box, dresser, desk with armchair. Also with all comforts: air conditioning, LCD TV, mini-bar, hair dryer, courtesy beauty set.
Natural spa: a flourishing countryside surrounds the old mansion where medicinal plants paths and fruit trees lead you to a refreshing natural pool and a 'gebbia': an old tub – once used for gathering rainwater – now is a pleasing pool for aromatic bath with orange blossom, lavender, rosemary, rose's petals.
Fontes Episcopi Bio Resort lets you experience and rediscover motions and flavors of the rural tradition. Every guest can practice gardening and plant-based activities as almonds, olives, legumes and vegetables harvesting from our garden and then enjoy preparing his own fresh and genuine meals in collaboration with our Chef!
From here you are very close to the Valley of the Temples and just 20 minutes drive from the sea (the lovely Scala dei Turchi). Agrigento is an ideal point of departure to visit natural places of the southern area like Torre Salsa Natural reserve, one of the most beautiful in Sicily. Villages in the Sicani area such as Sant'Angelo Muxaro, in the inland of Agrigento, Burgio for its ceramics or Caltabellotta with its amazing view of the south coast and the sea, are surely worth a visit, off the beaten track.
Località: Aragona, Agrigento
Pricing
| | | |
| --- | --- | --- |
| From | To | Price |
| 01/03/2022 | 15/05/2022 | € 90 |
| 16/05/2022 | 30/06/2022 | € 100 |
| 01/07/2022 | 31/08/2022 | € 110 |
| 01/09/2022 | 30/09/2022 | € 100 |
| 01/10/2022 | 30/11/2022 | € 90 |
Prices are per night, per person, based on double room occupancy, including breakfast (min. 2 nights).
For further information on this accommodation or for special requests please submit the following form or send us an email to sicily@tururi.org
« Back to accommodations