FEUDO MUXARELLO
« Back to accommodations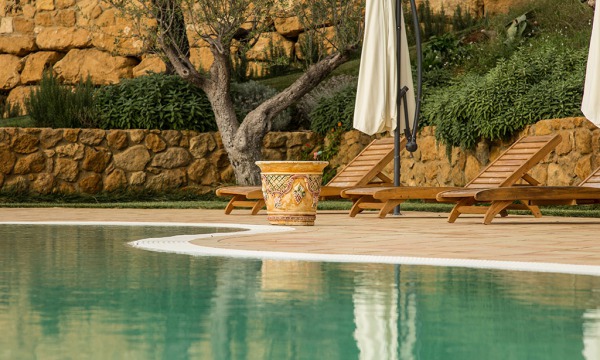 Services
Swimmingpool

Air conditioning

Heating

Restaurant only for guests

Kitchen

Shared kitchen

Internet Wi-Fi

TV in the room

Mini-bar

Washing machine

Green area

Chaise longue

Animals admitted

Parking

Access for disabled

Cleaning

Guided tours

Bicycles
Nearby
Monuments

Countryside
At Feudo Muxarello agritourism you will find a very genuine atmosphere. The family who runs it is one of real farmers, very friendly and welcoming, always happy to tell their secrets for a healthy life.
Breakfast, lunch and dinner are therefore prepared with products from their land: bread and pasta from the flour obtained by the wheat milling, fruits and vegetables, olive oil and even self produced meat.
The rooms are very comfortable, equipped with all comforts. During the hot season the guests have at their disposal a swimming pool with a breathtaking view on the valley and on the fields around the farm cultivated with wheat, olive trees, orchards, and also saffron, a very special cultivation. Chickens and goats "Girgentane", characterized by the bizarre form of their horns, are also part of the whole scenery.
Among the various activities that can be organized during your stay, such as the visit to the Valley of the Temples in Agrigento and the surrounding archaeological area, we highly recommend an experience with Val di Kam, a local organization that runs a tourist accommodation business with low environmental impact and in contact with the land and its inhabitants.
Pierfilippo, the founder and the soul of the organization Val di Kam, will personally lead you during your stay in this area giving you the unique opportunity to experience unspoiled nature, beautiful landscapes and, above all, enjoy the contact with local people who convey the typical warmth of the Sicilians.
This is definitely a great opportunity for immersion in the authentic life of the Sicilian countryside, far from the traditional tourist routes.
Walking and hiking, with various levels of difficulty, around Sant'Angelo
A visit to the shepherds, with the incredible experience of 'milking' your own cappuccino and enjoying warm, freshly made ricotta
Wine and food tasting, from traditional Sant'Angelo biscuits to the best locally produced wines
 
Località: S. Angelo Muxaro, Agrigento
Pricing
| | | |
| --- | --- | --- |
| From | To | Price |
| 08/01/2022 | 30/06/2022 | € 50 |
| 01/07/2022 | 30/09/2022 | € 60 |
| 01/10/2022 | 22/12/2022 | € 50 |
| 23/12/2022 | 07/01/2023 | € 60 |
Prices are per night, per person, based on double room occupancy, including breakfast (min. 2 nights).
For further information on this accommodation or for special requests please submit the following form or send us an email to sicily@tururi.org
« Back to accommodations