CASE PERROTTA
« Back to accommodations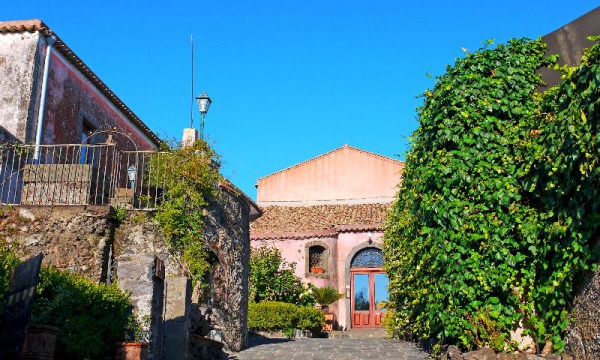 Services
Fan

Heating

Restaurant only for guests

Internet Wi-Fi

Internet access (PC)

TV in the room

Mini-bar

Chimney

Green area

Children's play area

Chaise longue

Animals admitted

Parking

Access for disabled

Cleaning

Guided tours
Nearby
Mountain

Countryside

Bars/Restaurants (walking distance)
The Perrotta farm is on the slopes of Etna at an altitude of 700 m, in the district of Sant'Alfio, within walking distance of the well known age-old "Chestnut tree of the Hundred Horses". The property, beside the Etna Nature Park, overlooks the sea with a wide picturesque view that includes the fortress of Taormina, the Port of Riposto and the Gulf. On the opposite side, with the sea behind you, there is a majestic view of Mount Etna and the craters on its peak.
The Case Perrotta farm is part of a privileged landscape setting in a location that is 'off the beaten track' but easily accessible. The unspoilt nature, the abundant colours and fragrances of the countryside and the broad, majestic landscape make it an ideal destination for leisure and relaxation.
The farm is part of an architectural setting in the form of a small hamlet that is unique in terms of the traditional rural settlements in the area. The unusual architectural shapes of the houses, the majesty of Etna and the blue line of the sea give this place a special charm.
The ancient manor house, the original core of the monastery and the old palmento (a space used in the past for treading grapes) have been renovated in accordance with traditional standards and now house ten comfortable rooms with bathrooms and furnished with ancient farming tools.
The products of the soil are both offered in the food prepared by the expert chef and sold in the Case Perrotta market. Here you can find one of the most characteristic expressions of Mediterranean gastronomic culture. Case Perrotta's highly creative cuisine showcases tasty local dishes and ancient recipes that had been forgotten until recently. The menu, created according to the particular season, provides appetising flavours and a taste of old Sicilian dishes.
We recommend visiting the following:
Catania and Acireale
Taormina and Giardini Naxos
Mount Etna
Caltagirone, famous for the craft production of ceramics
Piazza Armerina with its magnificent mosaics of Villa Romana del Casale
Località: Sant'Alfio, Catania
Pricing
| | | |
| --- | --- | --- |
| From | To | Price |
| 08/01/2022 | 28/02/2022 | € 50 |
| 01/03/2022 | 14/04/2022 | € 52 |
| 15/04/2022 | 18/04/2022 | € 58 |
| 19/04/2022 | 31/05/2022 | € 52 |
| 01/06/2022 | 30/09/2022 | € 58 |
| 01/10/2022 | 31/10/2022 | € 52 |
| 01/11/2022 | 14/12/2022 | € 50 |
| 15/12/2022 | 07/01/2023 | € 58 |
Prices are per night, per person, based on double room occupancy, including breakfast (min. 2 nights).
For further information on this accommodation or for special requests please submit the following form or send us an email to sicily@tururi.org
« Back to accommodations